My morning started well thus keeping the good vibes all-day through. It was a busy and tiring day, but worthwhile and fulfilling at the same time.
My boyfriend accompanied me to the Phil Post EMS to claim my package from Firmoo yesterday. Last time we went there, we missed out! But this time, everything went well. No long queues, no under the table whatever, etc. Quick and smooth transaction! As in! I was so happy about it.
After that, we headed to S.R. Thai Cuisine near UST for lunch. We had eggs and fried rice for breakfast then French fries and Honey Banana float from McDo as quick snack. We just felt like eating and rewarding ourselves that day.
My boyfriend had the usual Chicken with Basil Leaves while I tried Chili Pork Rice for a change. Love the good food! While we're eating, he texted his MTG friend because were planning to pickup some cards later the day. So we went home right after lunch, prepped up and went to Eton Cyberpod, Ortigas. Another round of LRT/MRT!
There was an ongoing tournament at Regran so we have to wait until they finished the third round before approaching his friend. Deal closed and we're good to go. But I tried my luck and bought one Avacyn Restore booster pack… and I got….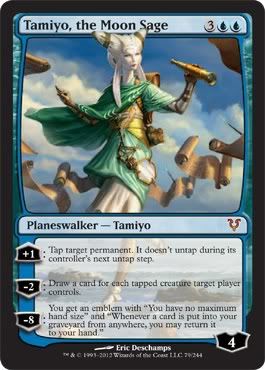 Yup, Tamiyo, the Moon Sage! That's the only pack I bought so I know I was just too lucky! Haha. My boyfriend bought one as well and got a not so impressive rare.
After wrapping things up at Regran, we headed to Rei's place for VTM (Vampire The Masquerade) session. My luck continued as I kept getting success die rolls. Playing VTM is really fun and exciting. I liked how the story went and we might resume the game next time.
Whew! Such a loooong tiring day! But everything turned out good so that's something to be thankful about!