Gotta play MTG (Magic the Gathering) again! My boyfriend is still working on our decks and I'm still unsure of what I really like to play. Haha. I'm torn between UW Delver and RG Aggro. The last time I playtested Delver, it wouldn't synchronize with me. So hard to get a good hand even if I shuffled it to the best way I can. Plus, it was taking me too long to think of my moves and responses. Thanks to Snapcaster Mage and plenty of Instant and Sorcery for giving me lots of options and sometimes, headache!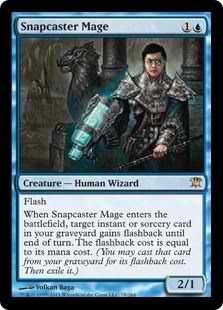 As for RG Aggro, we still need lots of cards to complete the deck. Even if we convert his Kessig Ramp into RG Aggro, we still have to spend more on 3 Sword of War and Peace. And as far as I know, it costs P1500 right now. I wonder if there are still people selling it for P1000-P1200 especially that the MTG Grand Prix is fast-approaching.
Based on our latest playtest, it seems that I'm getting acquainted and synched with my new deck – UW Delver. So I might use it if we won't be able to complete RG Aggro in time.
Playing MTG is super fun!
P.S. I've been collecting Angel cards since the release of Avacyn Restored.